Superb Interview With Dr Bernie Siegel... The Healing Power of Love and Laughter...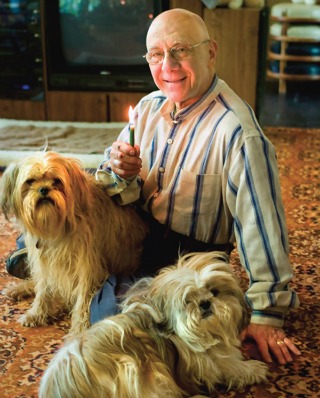 With Troy Sawyer
It's no secret that Dr Bernie Siegel is very highly regarded and respected around the health and healing traps. His first book "Love, Medicine and Miracles" is an absolute classic and remained on the New York Times Best Seller list for 6 years straight (1988-1994). He has since gone on to author 12 best-selling books, which have sold over 1.5 million copies combined. "A Book of Miracles" is one of my personal favorites. It's filled with inspiring true stories of hope, healing and love from people Bernie has helped during his illustrious career. Dr Larry Dossey said about the book… "A Book of Miracles is a must for anyone who considers their situation in life to be hopeless or who is struggling against great odds."
It certainly is a "must" in my opinion.
What I love about Bernie is he still takes the time to speak with his fans and answer questions and emails through his website berniesiegelmd.com. He's a lovable and giving man who definitely sees the bigger picture with life and our place in the cosmos. In this second interview, Bernie shares more of his wonderful wisdom and enlightening stories in a way that only he can. I guarantee, you'll come away feeling truly inspired and full of love and laughter!
Click on the video below to start watching... 


Recommended Reading and Listening…
We highly recommend you take the time to check our Bernie's informative website www.berniesiegelmd.com and have a read of some of his excellent articles. To purchase any of Bernie's books, CD's and DVD's, go to www.wisdomoftheages.biz or www.amazon.com. If you enjoyed this video then please take the time to share it with others. You never know, this could be just what that person needs to hear right now in their lives.
Once again, I would like to leave you with a few of my favorite Bernie Siegel quotes. They certainly give me a strong reminder of just how important it is to live and cherish our lives every day...
"For me, a lovely day is any day I wake up."

"Be grateful simply for being alive. When you are grateful for life, pure and simple, your life becomes one you can be grateful for. That may strike you as circular or even backward logic, but your attitude really does have an effect on how things work out. When you can't change your life any other way, you can still change your attitude. When you do, your life changes. You find more chances to love, and you will be surprised to see how much more love is returned to you."

"Love is giving with no expectations...Love cures, heals, and rewards two people: the lover and the beloved."

"Life is a labor pain; we are here to give birth to ourself."
Thanks for watching and all the best to you.  

---
Go from "Dr Bernie Siegel interview" back to expert interviews section
Go to life saving natural cures and natural remedies home page
---