Miracle Treatment for Polycystic Ovary Syndrome (PCOS)...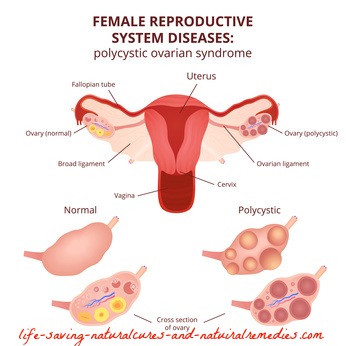 Want to cure your polycystic ovarian syndrome fast and finally fall pregnant? Then here's 9 natural treatments and home remedies you definitely must consider...


QUESTION:
I have PCOS and it's making my life hell. I would also like to have a child but cannot fall pregnant. Do you have any helpful advice? Thank you.
ANSWER:
Polycystic ovarian syndrome (PCOS) is a common condition that affects anywhere from 5-20% of women at childbearing age and is the #1 cause of infertility. PCOS is caused by a hormonal imbalance and is characterized by abnormally high levels of the male hormone - androgen. Elevated insulin levels are also a prime cause of polycystic ovary syndrome because high levels of insulin make the ovaries produce excessive amounts of male hormones. In addition to these, inflammation in the body is thought to exacerbate PCOS as well.
Symptoms of polycystic ovarian syndrome include...
- Irregular periods or missed periods
- Infertility or problems conceiving
- Acne and cystic acne
- Weight changes, particularly weight gain/inability to lose weight
- Abnormally high testosterone levels
- Insulin resistance/diabetes
- Excessive hair growth, particularly on the face and abdomen
- Thinning hair
- Mood changes
- Chronic fatigue
- Loss of libido
To fix PCOS, and fix it for good, you must do 3 things...
- Balance your hormones
- Normalize your insulin levels
- Reduce inflammation and balance pH levels
These 9 natural remedies and treatments do exactly that. Here they are in order of importance...
Natural Treatment for PCOS #1... Apple Cider Vinegar (ACV): Apple cider vinegar should definitely be your first choice for treating and reversing polycystic ovary syndrome. It's considered the ultimate hormone balancer and pH booster. In fact, ACV works so well that it's the remedy of choice for virtually all hormonal problems in both men and women - no matter what they are. Apple cider vinegar also helps to control blood sugar levels so your body doesn't produce too much insulin. Plus, it's a powerful anti-inflammatory (hence why it's regularly recommended for gout and arthritis).
So what you do is mix two tablespoons of organic apple cider vinegar and a teaspoon of
unsulphured black strap molasses (BSM)
in a glass of warm filtered water and drink down (BSM is rich in essential hormone nutrients such as magnesium, iodine, iron and potassium so make sure you include this). Do this 3 times per day, 20 minutes before your main meal (on an empty stomach). So you should be having a total of 6 tablespoons of ACV and 3 teaspoons of unsulphured black strap molasses daily. For best results and to keep your PCOS away for good, make sure the apple cider vinegar and BSM drink becomes a permanent part of your daily regimen (so yes, you continue to have it for the rest of your life). You must also make sure that the ACV you purchase is organic and still contains the "mother" apple (very important). Do not use any other type of ACV as it will not work. Braggs apple cider vinegar is the best if you can get it...
Bragg Organic ACV with the Mother
.
Natural Remedy for PCOS #2... Vitex Chastetree Berry: Chasteberry is a terrific hormone-balancing herb that's regularly prescribed by herbalists for treating menstrual problems such as irregular periods, excessive bleeding, cramps and menstrual pain. And it works exceedingly well for PCOS as well due to its powerful hormone normalizing action.
You can find vitex in most health food stores or online...
Vitex Chastetree Berry
. Take 800-1200 mg's per day in divided amounts for 3 months then back off to 400-500 mg's a day after this. Keep in mind that chastetree berry works best with continuous, long term use.
Home Remedy for PCOS #3... Fish Oil and Evening Primrose Oil (EPO): Your body needs a healthy balance of omega-3 and omega-6 fatty acids. According to a study published in the American Journal of Clinical Nutrition, the omega-3 fatty acids in fish oil help with PCOS by reducing androgen levels and improving insulin sensitivity, while the omega-6 fatty acids in evening primrose oil help to balance female hormone levels and increase fertility. Fish oil and EPO are also powerful anti-inflammatories.
It's best to take a combination of fish oil and EPO daily for full benefit and effect. 6000 mg's of fish oil and 4000 mg's of
evening primrose oil
capsules taken in divided amounts throughout
the day would be the perfect balance and amount.
Natural Cure for PCOS #4... Cinnamon: Cinnamon supplementation improves menstrual cycles and the symptoms associated with polycystic ovarian syndrome according to researchers from Columbia University. And a study published in the Fertility and Sterility journal found that cinnamon helps to reduce insulin resistance and normalize insulin levels in women with PCOS. Cinnamon also contains some strong anti-inflammatory properties.
Cinnamon is such a widely available spice that you should have no problems getting a hold of it. Just remember to ONLY consume good quality Celyon cinnamon and not the cheap cassia cinnamon (very important also). Cassia cinnamon wont work anywhere near as well and can be toxic to the liver in excessive amounts. Add a teaspoon of cinnamon powder to a glass of warm filtered water daily and drink down. In addition to this, be sure to sprinkle some cinnamon on your cereal, yogurt, fruit, etc, as much as you can for an extra supply.
Natural Treatment for PCOS #5... Eat Raw Cacao: Most women will agree that chocolate cravings seem to come on or be at their worst around the time of their period. The reason? An iron and magnesium deficiency! These two essential minerals are needed for healthy blood flow (and healthy menstrual flow) and also provide optimum hormonal balance. If you aren't receiving enough iron and magnesium, chocolate cravings can be a giveaway sign. But instead of indulging in a bar of commercial chocolate (which is extremely bad for you), go for healthy raw cacao instead. Raw cacao is rich in iron and magnesium, as well as many of the other essential nutrients. You'll soon notice yourself having better and smoother periods, along with more energy and clearer looking skin from a daily dose of one tablespoon a day of
raw cacao powder
. You can also use it to make your own "healthy" sweets and treats as well.
Natural Remedy for PCOS #6... Spearmint Tea: Spearmint contains some powerful anti-androgenic properties and helps to reduce the effects of hirsutism (excess body hair) that many PCOS sufferers have. Take a cup of boiled water and add a teaspoon of spearmint leaves. Leave to steep for 20 minutes before straining and slowly sip. Drink this tea as often as you like. You can also use spearmint oil on your face as a cleanser if you're suffering from acne. It works a treat!
Home Remedy for PCOS #7. Eat Healthy: Diet plays a crucial role in the development of polycystic ovary syndrome and its accompanying symptoms. "Clean eating" and "detoxing" are popular phrases that are bandied around these days, but they really are extremely important. You must avoid all refined and processed foods and junk foods, and instead, eat plenty of fresh fruits, vegetables, lean meat, seeds, nuts and grains. Feed your body the right foods and allow it to cleanse, repair and regenerate itself. Get yourself a NutriBullet or something similar and start your day with a nutritious and healthy smoothie (
here's some easy recipes
). I guarantee that when you do, you'll start to feel better than you've felt in a very long time!
Natural Cure for PCOS #8. Exercise: Regular exercise is important for balancing hormones and maintaining your correct body weight. A major side effect of PCOS is unwanted weight gain and being unable to lose weight - so doing some regular moderate exercise every day will certainly help with this. And it doesn't have to be anything fancy either. A brisk walk or bike ride for 40 to 50 minutes is usually enough. Just make sure you get "huffy and puffy" for this period of time. Once you get your hormone and insulin levels right and metabolism sped up (from exercising), you'll find weight loss and maintaining your healthy weight a breeze.
Natural Treatment for PCOS #9... Other Herbs and Seeds That Help With Polycystic Ovary Syndrome: Along with the herbs and spices already mentioned - turmeric, cayenne pepper, ginger, fenugreek, flaxseeds, saw palmeto, garlic, licorice and holy basil are all potent detoxifiers, anti-inflammatories and hormone stabilisers, so be sure to supplement with these and use them in your cooking as much as possible (or add them to your morning smoothie). You body will most definitely love you for it!
So hopefully these tips and remedies help you out.
Good luck and all the best to you!
Regards,
Troy (Certified Holistic Nutritionist & Herbalist, Health & Wellness Coach)