Natural Remedy for Cancer... Black Seed & Soursop Now the Hottest Alternative Cancer Treatments!
Cancer experts agree that black seed and soursop are two incredible treatments for cancer. But what makes them so incredible is not only do they annihilate cancer cells, both have the research and proof to back up the many "cancer reversing" claims...
Article by Troy Sawyer (Certified Holistic Nutritionist, Health & Wellness Coach, Sports Nutritionist)
Updated December 1, 2023 -- This post contains affiliate links  

Black Seed (Nigella Sativa, Black Cumin): The Ultimate Cancer Treatment...  
This plant is probably one of the most revered and prized medicinal herbs in all of history. Even the great Muhammad advocated its use over 1,400 years ago and told his followers to "Use this seed often as it is a cure for everything except death". Black seed was also cultivated and used by the Egyptians and was actually found in king Tut's tomb dating back over 3,300 years ago. In more recent times, the medicinal benefits of black seed were somewhat forgotten for many years until the early 1960's. Since then there's been a tidal wave of research that's been able to provide some outstanding proof on the incredible health benefits of black cumin, especially for cancer prevention and treatment.


Black Seed is an Alternative Cancer Treatment You Must Seriously Consider….
Nigella sativa really is such an incredibly powerful cancer treatment and definitely needs to be on your "cancer fighting" list. In fact, it's right up there with the best of the best (including cannabis oil and baking soda). The great thing about black seed is not only does it wipe out cancer cells very quickly, it works on just about every type of cancer. It seems to have a strong affiliation for colon, brain, bone, blood (leukemia), cervical, prostate, breast and pancreatic cancers.

If we look at pancreatic cancer in particular, this is considered to be one of the deadliest forms of cancers there is. Unfortunately, the survival rate for people who go with orthodox medical treatments such as chemotherapy and radiation to treat this cancer are extremely low (a median survival rate of only 5.4 months for chemotherapy).3 But research shows that with black cumin the success rates can be much higher…      
In a recent study, scientists from the Kimmel Cancer Centre in Jefferson were able to prove beyond a shadow of a doubt that black seed destroys pancreatic tumor cells at a rapid rate. In fact, researchers had an astonishing 80 percent success rate! Further research by the Cancer Research Laboratory in South Carolina found that black seed increased the growth rate of bone marrow cells by an incredible 250 percent (which is why black seed is such a powerful immune booster) and it also inhibited the growth rate of all tumours by a minimum 50 percent! 1
And the positive findings don't stop there. There's literally tons of information and in-depth research results on the remarkable benefits of Nigella sativa that I'm not going to go through here. To list it all would just take up too much room anyway (I'm not kidding). However, if you would like to read more about the exciting findings on the health benefits of black cumin, you can click on this link… NCBI – black seed research findings.
At the end of the day folks, if you have cancer then all you really need to know is that black seed works ultra-magnificently as a cancer treatment. Here's how you should take it for best results…

Best Way to Take Black Seed for Big Results
Black seed oil and the seeds in general are a cost effective remedy for cancer compared to other treatments. Now even though you can buy Nigella sativa in powdered form, or just the seeds, the best way to take black cumin is still the liquid oil form. However, taking a combination of the oil and the seeds together can work even better for some people. If you're going to be taking black seed oil to treat your cancer then you'll need to follow these directions…

According to black cumin expert, Maria Hurairah, you need to take 3 teaspoons of the oil daily (in divided doses) or two teaspoons of the oil and one teaspoon of the seeds/powder daily. And you do not take black seed on a full stomach. It must be taken on an empty stomach with an oral liquid (Manuka honey or orange juice are best) one hour before a meal. You can also increase the dosage by one teaspoon per day after 2-3 weeks if desired. 2 
In addition, if you do decide to take the seeds then they must be heated first as the raw seeds can cause an upset stomach. Here's how to heat the seeds…
Place about one fourth of black seeds in a skillet on low heat (start with one fourth just in case you burn the seeds). Stir the seeds every few minutes and keep tasting until they lose their tardiness. The seeds must be bland and should pop slightly. Remove them from the heat and leave to cool. Place the desired amount in a coffee grinder and grind. Mix a teaspoon of the seeds with some Manuka honey and eat.
Finally, when you purchase your black seeds or the oil just remember that black caraway is not black seed. They are two completely different plants (but many suppliers are now labelling them as the same). This is important as the last thing you want to do is get ripped off, or even worse, not get the full health benefits of the black seeds!

Soursop (Graviola): The Natural Cancer Treatment That has Everyone Talking...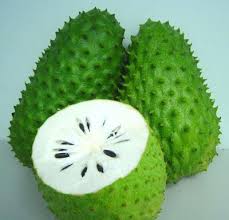 Soursop (Graviola) has been used by the indigenous population in the Amazon to treat just about every illness and disease for thousands of years. Of course, we "westerners" are way behind as usual but this is now changing dramatically. The soursop plant is currently one of the hottest, most talked about and sought after natural cancer treatment on the planet.
And with good reason.
Graviola has been found to be an astonishing 10,000 times stronger at at killing cancer cells than chemotherapy. But what's even more miraculous is unlike chemotherapy, which indiscriminately kills healthy cells as well as cancerous cells, the soursop plant only hunts down and kills the cancerous cells whilst leaving the healthy cells alone. It also increases your white blood cell count dramatically and literally "turbo-boosts" the immune system.
Extracts from the soursop tree have been found to effectively target and kill malignant cancer cells in 12 different types of cancers including colon, breast, prostate, lung, cervical and pancreatic cancer. Graviola also contains powerful broad spectrum anti-microbial agents - so it kills virtually all bacterial and fungal infections in the body as well. Because many cancer experts now believe that cancer is actually a fungal disease, this adds to soursops incredible arsenal of cancer fighting benefits even more.

Potent Cancer Treatment Purposely Hidden From the General Public…
It makes me sick to the stomach every time I talk about this, but it needs to be brought up. It's now been revealed that the incredible cancer destroying properties and health benefits of the soursop plant were first actually proven back in 1976 and published in a report by the Nation Cancer Institute - but the results were never released to the public!

Why?
Nobody knows for sure, but it would probably have a lot to do with what we and others have been saying for a long time. Cancer testing and conventional treatments for the disease is a multi-trillion dollar industry world-wide. And actually being able to reverse this disease using a natural (and cheap) substance is not financially beneficial for the highly profitable cancer industry. There's money in orthodox treatments (the cut-burn-poison approach) but not with treatments that come from nature. Anyway, the cat is well and truly out of the bag, thank god, and more and more cancer victims are now turning to soursop to treat and heal their cancers!
---
---

Where to Get Soursop From and How to Take it…
The bark of the soursop tree has been found to contain the highest cancer destroying properties, but the leaves, roots and seeds can also be used. If you live in a country that grows the soursop plant then purchasing it is easy. For the rest of us, you can buy Graviola in capsule, powder or tincture forms.  You can also buy soursop as a tea. Visit your local health food store or go online to purchase Graviola in any one of these forms. For the capsules and powder, follow the directions on the label. With the tea, be sure to drink 4-6 cups daily.

Informative Video on Soursop…
To finish, here's a great little video from Dr. Gus on the powerful health benefits of soursop. It goes for 10 minutes and is really worth watching. So enjoy! 
---
---
Go from natural cancer treatment - black seed and soursop - to more natural remedies for cancer
---