Best Home Remedies for Gout and Gouty Arthritis...
Taking fish oil supplements and following a healthy diet are two crucial natural remedies for gout. Here's why you must follow through with these important gout remedies if you want to treat this condition successfully...
Article by Troy Sawyer (Certified Holistic Nutritionist, Health & Wellness Coach, Sports Nutritionist)
Updated December 1, 2023 -- This post contains affiliate links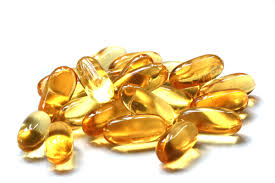 Omega-3 fatty acids from fish oil and cod liver oil are a potent and proven treatment for rheumatoid arthritis and osteoarthritis. They inhibit the production of leukotrienes, the most powerful causes of inflammation in the body. Because gout is a form of arthritis and an inflammation type disorder, it makes sense that fish oil can also be a viable remedy and treatment for gout and gouty arthritis.
Many gout sufferers swear by the effectiveness of fish oil for treating their gouty arthritis, although it's benefit has yet to be "officially" proven in studies. Still, there's no need for you to wait for the research results. Fish oil supplements are so cheap, and help with so many health problems, including gout, that they should be a staple in your diet and supplementation program regardless!
Just remember though, you need to make sure you take enough fish oil every day for them to work properly. I don't know why but most people only take two or three fish oil capsules a day and then wonder why they get no relief. To successfully treat and get rid of your gout and gouty arthritis you must take at least 10,000 milligrams per day! This is the minimum amount not the maximum. Anything less will not give you the desired results. 

Certain Fruits, Vegetables and Herbs are Powerful Healers and Remedies for Gout...
I know fruits and vegetables may not be the most exciting foods to eat, but they're incredibly good for you. They don't just contain essential vitamins, minerals, fatty acids and antioxidants, they're potent alkaline foods!
Herbs such as garlic, cinnamon, alfalfa, celery seed, boswellia and milk thistle are well known to help with gout symptoms. Eating and cooking with these foods every day, along with supplementation, will help prevent your gout from returning. Soursop (gravoila) is also excellent for getting rid of gout. In fact, many alternative medicines now contain soursop for the treatment of gouty arthritis.
Then we have apples, which are considered to be one of the all-time best gout remedies because they neutralize uric acid in the body. In fact, here's what well known natural health author, Jean Carper, has to say about eating apples to keep gout and arthritis away...
"In American folk medicine, the apple is called "the king of fruits," a 114 neutralizer of all the body's excess acids, and thus, according to a 1927 article in American Medicine, "therapeutically effective in all conditions of acidosis, gout, rheumatism, jaundice, all liver and gall bladder troubles, and nervous and skin diseases caused by sluggish liver, hyperacidity, and states of autointoxication. FACTS... No doubt about it. Modern scientific investigations find apples a versatile and potent package of natural drugs that deserve their reputation for keeping doctors away."
The Food Pharmacy: Dramatic New Evidence That Food Is Your Best Medicine by Jean Carper. (NaturalPedia)

Next Home Remedy for Gout... You Must Limit the Amount of Alcohol and Processed Foods in Your Diet...
Processed foods are man-made disaster foods and should definitely not be eaten. They contain zero nourishment and are full of toxic chemicals and artificial additives. You really must cut out, or at the very least, seriously limit the amount of processed meats, refined sugars, hydrolyzed oils, fried foods, and general junk food if you want to enjoy a long and pain free life. Acidic foods such as coffee and red meat should also be limited.
Of course, the worst culprit for causing a gout attack is by far alcohol and the over consumption of alcohol, so this practice is best kept to a minimum. In addition, it's a well known fact that most gout sufferers are either overweight or have put on weight rapidly before getting their first attack. So doing some light, moderate exercise every day is also vital to preventing and treating gout and gouty arthritis. 
There really is no easy way around this one folks!
It's time to take control of your lifestyle habits once and for all, not just so you never have to go through the pain and discomfort of a gout attack again, but so you never have to go through the pain and discomfort of something much worse... like a cancer attack!
To finish off, listen to what health expert, Ralph Moss, PhD, has to say about preventing and curing gout through diet...

"Besides taking celery seed extract, the following strategies may help you avoid a painful encounter with gout. Reduce your protein intake. High-protein foods such as meats, dairy products, poultry, fish, and seafood can raise your blood levels of chemicals called purines. In turn, purines elevate your uric acid levels and increase your risk of a gout attack. Be prudent about alcohol consumption. Gout attacks often follow an evening of drinking. That's because alcohol increases uric acid production. For many people who have gout, giving up drinking ends their attacks."
Antioxidants Against Cancer: How to Activate Your Body's Natural Healing Powers With Today's Most Protective and Immune-Boosting Supplements and Foods by Ralph Moss, PhD (NaturalPedia)
---
---
Go from natural remedies for gout - fish oil and natural foods - to more home remedies for gout
---