Natural Remedy for Cataracts!
by Shanti
(Trinidad)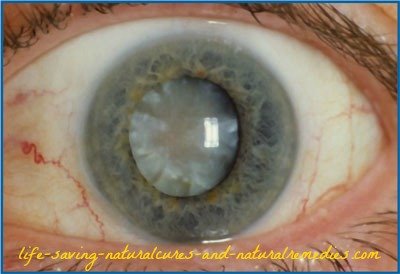 Question:
My mother is 78 years old and has cataracts in both eyes. The doctor is recommending surgery. What herbal remedy would you recommend?
ANSWER:
Hi Shanti, and thank you for your question regarding cataract remedies.
According to many eye care practitioners and an abstract from the US National Library of Medicine, cataracts are caused by something called oxidative stress...
Oxidative Stress in Cataracts
. A build up of pro-oxidants (free radicals) causes the eye lens to become cloudy, impairing vision. Antioxidants reverse oxidative stress and free radicals, which is why these nutrients are essential for reversing cataracts.
One of the most effective natural remedies for cataracts, and one that's regularly endorsed by Dr Norman Shealy, is castor oil. Castor oil is incredibly rich in antioxidants, particularly vitamin E, vitamin C and essential fatty acids. Many cataract sufferers have received outstanding results from using castor oil, however, for this remedy to work (and for safety reasons) you must make sure you use the right type of oil. ONLY ever use certified USP therapeutic grade cold pressed castor oil. Do not use any other type! This brand here is one that's recommended...
Pure USP Grade Castor Oil
.
To use, simply place one to two drops of USP castor oil into each corner of the eye every night before going to bed. It will take between 3 to 6 months for the cataracts to disappear and vision to be restored.
For more information on the specifics and success of this treatment, make sure you read these two articles...
Castor Oil for Cataracts.
Dissolving Cataracts
.
Coconut water also works a treat for cataracts, along with other eye disorders such as glaucoma and age related macular degeneration. Like I said, many eye care professionals and researchers now believe the build up of pro-oxidants (free radicals) in the eye is the main cause of eye disorders such as cataracts and glaucoma. Coconut water or coconut juice contains powerful antioxidants that quickly hunt down and destroy these free radicals. It also contains high amounts of magnesium, potassium and other minerals and enzymes that all help
to relax the lens proteins, which then allows it to realign and become transparent once again.
World renowned coconut expert and author, Dr Bruce Fife (whom I had the privilege of interviewing last year...
Dr Bruce Fife Interview
), says in his book, Coconut Water for Health and Healing, that fresh coconut water is a perfect eye drop solution and eye wash. He also says that putting coconut water in your eyes can completely cure existing eye problems such as cataracts, along with preventing eye problems such as macular degeneration.
When using coconut water or the juice make sure you only use the FRESH juice from the young coconut, not the mature coconut (very important). Using an eyedropper, apply 3-4 drops of the fresh coconut juice into both eyes, then lie down and place a warm wet (but not dripping wet) washcloth over your eyes and leave on for ten minutes.
In addition to this, alpha lipoic acid (ALA) is incredibly effective for cataracts and helps to rid the body of deadly free radicals, which of course is one of the causes of eye disorders such as cataracts. You can
buy ALA
in supplemental form from most health food stores or online.
A recent study also showed that all trial participants who took saffron (the spice that gives curry its yellow color) had significant vision improvement. Researchers stated that this aromatic herb "may hold the key to preventing the loss of sight in the elderly". So be sure to take a
saffron extract supplement
every day or a quarter teaspoon of saffron powder.
Finally, phyto-nutrients and a substance called lutein are very important for the health of the eyes and for preventing (and even treating) cataracts. Make sure your mum eats plenty of fruits and vegetables, especially green, purple, red and yellow fruits and vegetables as these are rich in phyto-nutrients and lutein. Here's some more information on these cataract remedies if you're interested (as well as ALA)...
Natural Cures for Cataracts
.
Hope this helps you and your mom Shanti.
Good luck and all the best to you!
Regards,
Troy (Certified Holistic Nutritionist, Health & Wellness Coach/Specialist)