Psoriasis Treatments...
Best Natural Remedies and Home Treatments for Psoriasis...
Some foods are wonderful remedies and treatments for both psoriasis and eczema, while others will exacerbate this condition significantly. Here's a list of the "best and worst" foods for healing psoriasis and eczema that you may not be familiar with...
Article by Troy Sawyer (Certified Holistic Nutritionist, Health & Wellness Coach, Sports Nutritionist)
Updated September 4, 2023 -- This post contains affiliate links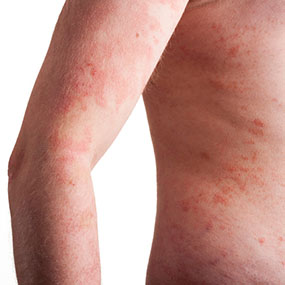 The types of foods you eat every day can have a definite bearing on your overall health, mental state and energy levels. For psoriasis and eczema sufferers, low immunity is a major problem, which is why these people usually lack energy, have food allergies and also catch every virus going around!
To successfully treat and heal psoriasis or eczema, it's imperative that you boost your immune system to the maximum and keep it strong. One of the best ways to do this is by eating and drinking plenty of strong antioxidant foods…
Berries such as blueberries, blackberries, goji berries and raspberries contain powerful antioxidants. Green tea also contains some of the most potent antioxidants yet discovered (just look at the Japanese; they are the biggest consumers of green tea in the world and they live healthier and longer than us "Westerners" by a country mile!). Be sure to drink at least 4-6 cups of green tea a day, preferably Matcha green tea. Or if you really don't like the taste, take green tea supplements instead.   
In addition to these, one of the most important nutrients you need to treat and cure psoriasis and eczema is the essential trace mineral, boron. And the best (and cheapest) way to get it is through either borax powder or boric acid. You take it internally, along with adding half a cup to a nice warm bath for quick relief. Make sure you take the time to read this astonishing article on borax and how it can successfully treat and heal chronic health problems such as arthritis and psoriasis... The Borax Miracle.
Here's what one arthritis and psoriasis sufferer had to say about this miracle cure on a popular health forum... 
"I also have psoriasis, so maybe the soreness in my joints is the psoriatic arthritis creeping in. I thought, after reading about borax here on this forum, I would give it a try. OMG! In one day, the soreness in my knees has vanished! .... Also, my psoriasis seems a lot better after 2 days drinking 1/4 tsp borax powder in 1 litre of water per day."

More Foods You Must Eat...
The foods you need to be eating plenty of are the standards. Fruits and vegetables, lentils and beans (organic if possible) are number one, followed by free range eggs and raw cereals such as oats. If you're not vegan then fish, free range chicken and low fat hormone-free meats can be added to the list (however, this doesn't include processed meats such as salami, sausages, hot dogs, beef jerky, etc. These toxic filled "death foods" should never be eaten).

Finally, as gluten intolerance can be a major problem for many psoriasis and eczema sufferers, try to eat gluten free grains such as black rice, millet, buckwheat and corn (non GMO) everyday. Also include plenty of lecithin in your diet as well. Studies have shown that this important food not only helps to reduce cholesterol levels, it also helps significantly with the symptoms of psoriasis and eczema. 


Inflammation Foods You Must Avoid...
For the foods you need to avoid, at the top of the list are all refined sugars, white flour products and yeast containing foods (yes, this does include alcohol). These horrible disaster foods feed the bad bacteria in the digestive system, which of course, contributes significantly to the development and worsening of psoriasis and eczema (and as a by-product, they also feed cancer cells as well).

Saturated fats from dairy products and red meat contain arachidonic acid, the pro-inflammatory essential fatty acid that exacerbates psoriasis and eczema. However, the absolute worst forms of toxic fats come from hydrogenated oils, fried foods and margarine. These fats are not only guaranteed to make your psoriasis and eczema a thousand times worse, they're also guaranteed to eventually kill you! 


The 3 Standard "Do's and Don'ts" for Successfully Treating Both Psoriasis and Eczema...
These three do's and don'ts follow the same standard principles as most of the other remedies and cures you'll come across on this web site, which are…
: No man-made refined and processed foods or liquids allowed.   
: Only foods grown out of the ground or off the land are to be consumed (preferably free of chemicals, pesticides, GMO's, etc).
: Plenty of clean filtered water must be drank every day to flush out deadly toxins and chemicals from the body. 
---
---
Go from psoriasis treatments - foods to eat foods to avoid - to more home remedies for psoriasis
---